Stubai glacier sightseeing tour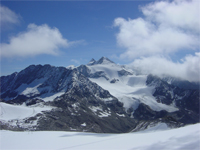 Through
Innsbruck Tours
, you can book half day excursions to the Stubai glacier either by bus, minibus or coach, depending on the number of people wishing to travel. Our sightseeing tours can be started in Innsbruck or any other place in Tyrol and are available to groups and individual travellers at any time of the year. Should you be interested in a Stubaital glacier sightseeing tour or should you have any questions, please write an Email to !
Program of our sightseeing tours to Stubai glacier
Starting from Innsbruck we will first take you to the small village of Neustift im Stubaital, either by modern or nostalgic train-the decision is yours. The train station of Neustift im Stubaital is where your driverguide will pick you up. After having enjoyed a short walking tour through the village and its impressive historical cemetary, you continue towards the glacier cable car that will take you from the valley to the alpine region of the Stubai glacier. Here, you will have half an hour to enjoy the landscape and the panorama, to take photographs and to buy souvenirs. On our way back to Innsbruck, we interrupt our ride briefly for a photo stop next to the "Europe bridge", a memorable civil engineering landmark with a height of 192 meter (629.9 ft) above the valley bottom.
Further information about Innsbruck Tours and our sightseeing program