Fullday sightseeing tour to Munich in Bavaria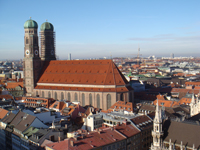 The team of
Innsbruck Tours
would gladly help you arrange tailor made sightseeing tours to Munich. This service is available anytime for groups, small travel parties and individual travellers and can be done by minibus, full size bus or car. Further down on this page, you will find a description of a possible sightseeing tour program. Should you wish to modify, remove or add details to the tour program, this is always possible.
Innsbruck Tours
arranges and delivers exactly the sightseeing tour program which best suits your individual needs and wishes. To ask questions about sightseeing tours to Munich with English speaking driverguides or tourguides and to book tourguide or driverguide service for sightseeing tours to Munich in Bavaria, please write to !
Important information:
Our sightseeing tours to Munich can also be arranged starting at locations other than Innsbruck, for instance from Nuremberg, Augsburg, Regensburg, Ingolsburg, Linz or Salzburg. Also, we do arrange city sightseeing tours for groups staying in Munich itself.
Program example for a full day sightseeing tour to Munich
Beginning in Innsbruck or from a different location, we will reach Munich via the highway (from Innsbruck in about two hours time) and start our sightseeing tour program with a driven city sightseeing tour showing important tourist attractions of the bavarian capital. After a short lunch break, we will join a guided city walk in English with an experienced local tour guide to discover the sights and attractions of Munich's old town, including Frauenkirche, Marienplatz, Marian column, the old and new town hall, Viktualienmarkt, Saint Peters church, the royal residence with its gardens and - of course - the world famous "Hofbräuhaus" beer brewery and restaurant. At the end of the day, you will have the choice between free time for shopping and individual sightseeing or a guided tour to either the old or new art gallery ("Alte Pinakothek" or "Neue Pinakothek").
Further information about Innsbruck Tours and our sightseeing program