Tyrolean folk music evening concert in Innsbruck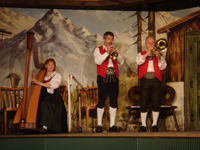 A holiday in Tyrol would not be complete without having enjoyed an evening of traditional Alpine folk music. Among the many available concerts in Tyrol,
Innsbruck Tours
particularly recommends the traditional tyrolean music evenings organized by the Gundolf family in Innsbruck. Through
Innsbruck Tours
, you can buy tickets for these high quality tyrolean folkore performances at the original ticket price. Should you have questions concerning Alpine folk music soirées in Innsbruck or should you wish to book tickets for tyrolean folk music concerts, please write to us at !
Description of the tyrolean folk music soirées in Innsbruck
During two hours of concert and highly entertaining show program, the traditional tyrolean music ensemble Gundolf will make you discover the entire range of Alpine folk music and traditional country dance art in Tyrol. Listen to famous tyrolean, austrian and international melodies played on traditional music instruments like the "singing saw", the alphorn, the zither and the hammered dulcimer, experience the fascination of a well performed yodelling song and watch sportive young people from Tyrol perform the Schuhplattler dance, which is said to be the oldest surviving European dance going back to the Neolithic. We guarantee that you won't regret having attended a tyrolean folk music show with the Gundolf family!
Further information about Innsbruck Tours and our sightseeing program