Innsbruck city sightseeing tour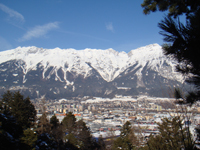 Through
Innsbruck Tours
you can book city sightseeing tours to Innsbruck for large and small parties and individual travellers, by coach, minibus or bus, depending on the size of your group. Further down on this page, you will find a description of a possible tour program which we call "panorama city tour". However, it is also possible to modify the program of the sightseeing city tour according to your personal interests. You will find different proposals for Innsbruck sightseeing tours on our partner website
Innsbruck Guides
. Should you be interested in booking a city sightseeing tour to Innsbruck, please contact us at !
Program of our "Panorama sightseeing tour to Innsbruck"
Our half day city sightseeing tour to Innsbruck starts at the bus parking lot next to the "Hofgarten" park. From there, we start with a round trip through the most interesting streets of Innsbruck. We will pass by the famous triumph gate of Innsbruck, the Innsbruck imperial palace "Hofburg", the imperial chapel "Hofkirche", the old town of Innsbruck and cross the city districts of "Saggen" and "Hötting". When reaching the Innsbruck city district "Wilten", we will leave the bus on the "Bergisel" mountain and visit the olympic "Bergisel Stadium". An elevator will take us to the top of the Bergisel Ski Jump from where you can enjoy a splendid panoramic view over Innsbruck and the Inn valley. Finally, we will have a walk in the gardens of the famous Ambras castle.
Comments concerning the "Innsbruck panorama tour"
Our panorama city sightseeing tour to Innsbruck does not include a walking tour to the inner city of Innsbruck nor a guided tour inside Ambras castle. Thus, you can book it separately to get a first impression of Innsbruck or maybe decide to do it in the morning and combine it with a detailed city walk or museum tour in the afternoon, making it a very complete and beautiful Innsbruck discovery experience. However, if you prefer saving even more time, it is also possible to shorten the driving parts of the panorama sightseeing tour and to replace the cancelled parts by a city walk or a guided tour to Ambras castle museum. We are open to your ideas and are looking forward to your message to !
Further information about Innsbruck Tours and our sightseeing program