Full day excursion to Innsbruck and the surrounding Tyrol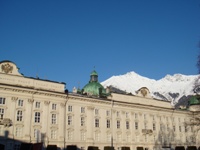 The full day sightseeing tour "Innsbruck and the surrounding Tyrol" is specifically designed for groups and individual travellers wishing to discover the most important sights in Innsbruck and its surroundings in one single day. It can hence be ideally integrated into any sightseeing tour program in Austria or combined to a skiing vacation in Tyrol. The sightseeing excursion can be booked at any given time and can be organized with either car, minibus or bus. The sightseeing tour program described below is just an example of how a sightseeing day in Innsbruck and Tyrol could look like, the itinerary can easily be adapted to your individual wishes and ideas. If you have questions about our Innsbruck sightseeing tours or if you wish to book a guide or driverguide for a full day excursion to the surroundings of Innsbruck, please contact us at !
Example for a full day sightseeing tour to Innsbruck & surroundings
Starting our sightseeing tour in Innsbruck, we will first experience a guided city tour through the tyrolean capital city, discovering its main tourist attractions. You will visit the Bergisel mountain with its world famous Ski Jump Stadium, follow a guided city walk in the narrow streets of Innsbruck's old town including a glance at the "Golden roof", the imperial palace and the imperial chapel of Innsbruck, the Innsbruck cathedral and other interesting monuments. Next, we will travel to the romantic city of Hall in Tyrol, where we have a look at the Hasegg castle with its magnificent tower. After a short break for lunch, we move on to Wattens and visit the Swarovski Crystal World museum which is today the most popular tourist attraction in Tyrol. Finally, your English speaking tour guide will take you on a driven sightseeing tour of the Alpbach valley with its characteristic tyrolean houses and its abundand flower decoration. On our way back to Innsbruck, we will make one last stop at the city of Rattenberg and visit the glass manufacturer Kisslinger.
Further information about Innsbruck Tours and our sightseeing program