Full day sightseeing tour "Royal castles of Bavaria"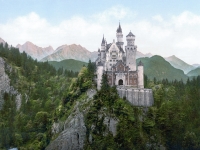 During our fullday sightseeing excursions to Bavaria, the experienced English speaking tourguides and driverguides of
Innsbruck Tours
will show you the most important monuments and tourist attractions of Bavaria, including the royal castles Neuschwanstein, Hohenschwangau and - possibly - Linderhof. Depending on the exact number of participants, the sightseeing tours to Bavaria can be arranged by car, minibus or full-size bus. Further down on this page, you will find a description of a possible itinerary for a sightseeing tour of Bavaria and its royal castles. Of course, this program can be modified to better suit your individual needs. If you have questions about sightseeing in Bavaria or if you wish to book a tour to the royal castles of Bavaria with an English-speaking tourguide or driverguide, please write to !
Important information:
the sightseeing tours of Bavaria and its royal castles can also be arranged starting from Munich or Salzburg. Should you wish to do so, please contact us!
Program example for full day tours to Bavaria and its royal castles
Starting from Innsbruck, we will travel through the upper Inn valley to Bavaria. Passing the medieval city of Füssen and enjoying a splendid view of its silhouette, we will then reach the village of Schwangau. Here, we will leave our bus, minibus or car to climb up to St. Mary bridge by carriage shuttle. From there, one can get an unforgettable panoramic view of both Neuschwanstein and Hohenschwangau castle. After having taken pictures, we will join a guided tour in English through Neuschwanstein castle discovering the place that inspired the Walt Disney castle of
Sleeping Beauty
. Your guide or driverguide will then wait for you at the exit of the castle and help you find good places to have lunch. In the afternoon, we will carry on to the picturesque village of Oberammergau with its splendidly painted facades. Via the skiing resorts of Garmisch-Partenkirchen and Seefeld in Tyrol we will finally return to Innsbruck.
Comments regarding the excursion "Royal castles of Bavaria"
The program described above is just one out of many possible ways to arrange a full day sightseeing tour to Bavaria. Alternatively and depending on the time at your disposal, we can also include a guided tour to Hohenschwangau castle after the tour to Neuschwanstein castle or a visit to Linderhof castle and / or Ettal monastery on our way back to Innsbruck. It is also possible to start with a guided tour to Linderhof castle and to visit Neuschwanstein and / or Hohenschwangau castles in the afternoon.
Further information about Innsbruck Tours and our sightseeing program