Panorama sightseeing tour to Alto Adige (South Tyrol)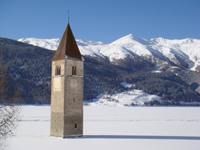 The experienced professional tourguides and driverguides of
Innsbruck Tours
are at your service for sightseeing tours to Alto Adige (South Tyrol) at any time of the year. Depending upon the size of your party, such sightseeing excursions can be arranged by fullsize bus, minibus or car. Of course, we do also take care of all practical details such as entrance tickets bookings, guided tours and lunch arrangements. Beneath this paragraph, you will find an example of a possible sightseeing tour program for a panorama tour of South Tyrol. Please don't consider it a rigid framework: all our tours can be modified in order to perfectly suit your individual interests and wishes! Should you have questions about travelling to Alto Adige or should you be interested in booking a panorama sightseeing tour to South Tyrol with professional English speaking tourguide or driverguide service, please send us a message to !
Important information:
this fullday sightseeing tour can also be arranged starting from Lienz, Bolzano, Merano, Trento, Verona and surroundings. Contact us if you have any questions!
Program example for a fullday sightseeing tour to South Tyrol
Starting in Innsbruck, we follow the upper Inn valley to the Resia mountain pass, where we cross the border into Italy. We will enjoy splendid panoramic views of the Austrian, Italian and Swiss Alps and have a short photo stop at the Resia lake with its famous submerged campanile from the 14th century. Before lunch, we will reach the city of Merano where we will follow a guided city walk with a professional English speaking tourguide. In the afternoon, our sightseeing tour takes us to Bolzano and we will visit the Archeological museum with the famous mummy of "Ötzi the iceman". Via the cities of Bressanone and Vipiteno, we will return to Austria via the Brenner mountain pass and end our tour in Innsbruck.
Comments regarding Alto Adige fullday sightseeing tours
Depending on how much time you have at your disposal for a sightseeing tour to Alto Adige (South Tyrol), the itinerary of the guided panorama tours proposed by
Innsbruck Tours
can be modified to include guided tours of Bressanone or Vipiteno and / or a visit to the medieval monastery of Neustift.
Further information about Innsbruck Tours and our sightseeing program